All about the latest tools & features
LinkedIn recently launched numerous new tools & features that can help you take your business or organization to the next level. In this blog, you'll learn  what's new and how to use these tools & features.
1. Highlight your customers
Telling your customers what other companies are using your products or services for is one of the best ways to convince them to also go into business with you. LinkedIn noticed this as well, which is why the platform is launching a new feature that lets you highlight your customers on your company page. 
In order to use this feature, you need to create a product page and indicate who your customers are. 
Once you've added some customers, page viewers can see them at the top of your Company Page and within the product-section of your Company Page. I think this is a nice way to increase the credibility of your page.
2. Pinning comments at the top of the comment section
This can be a good way to boost more targeted engagement and highlight top fans.  You can also use this to simply boost interactions by pinning the comment with the most engagement at the top of the reply chain.
3. Lead Generation Form
People visiting your LinkedIn Company Page are interested in learning more about your company. With the Lead Generation Form, you can now add a form to your page with custom text and one of the available call-to-actions. Members who visit your page can then submit their contact information via an auto-filled form.
4. Directly visible contact details
Having directly visible contact details allows users to contact you even faster. This way, you don't have to include your website and telephone number in the info section anymore. I would recommend you to still put an email address in there, since you don't have a separate place for it. 
5. Interact with posts as a company page
This new feature allows you to easily respond to any post in the feed with your Company Page and to attract a new audience or more followers. As a business, it is important to interact with members and or customers. 
To comment or react as your brand, simply click on your profile image in the bottom left corner of a post and select your Page before responding. 
6. Post Templates 
From now on, you can choose from existing templates when creating a new LinkedIn post via the LinkedIn mobile app. A handy feature for those who want to "quick and dirty" a post with a nice layout.
When creating a post in the LinkedIn mobile app, you can just tap the "use template" option in the post menu. Here, you can choose from pre-made templates and then customize the colors, font, text and more to create a message that stands out in the feed and grabs your audience's attention.
7. Clickable Links in images
Clickable links allow you to turn ordinary copy links into a visual call-to-action button. This feature is currently only available on the mobile app. When you create a post, you can select a link icon where you can enter the link text and URL. 
8. Workplace policy for LinkedIn pages
When you add a workplace policy to your LinkedIn Company page, you can choose one of the following three options:
On-Site Workplace: Employees come to work in-person.
Remote Workplace: Employees work off-site.
Hybrid Workplace: Employees work on-site and off-site. 
You can also select up to three benefits that your company offers, whether or not compensation depends on location and the vaccination policy regarding covid-19.
Please note that this feature is being rolled out progressively and may not currently be available for you.
9. LinkedIn  Newsletters
With LinkedIn Newsletters, you can publish recurring articles and instantly build a subscriber community  by sending a one-time notification to your page followers and ongoing notifications to your newsletter subscribers.
To help you grow further and engage your communities, you can now use hashtags and @mention members and pages in the text of an article to give authors and contributors recognition.
Can't find some of these new features yet? No worries! All new features are being gradually rolled out and will soon be available to everyone.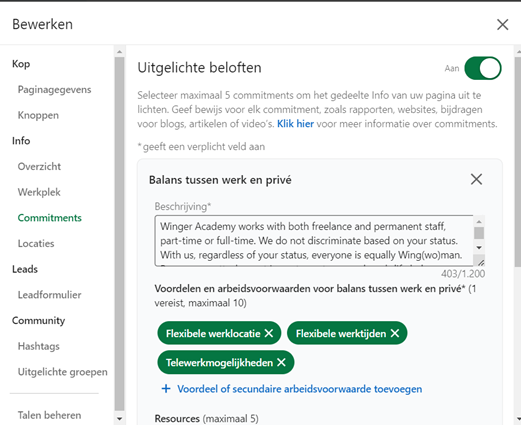 Can't find some of these new features yet? No worries! All new features are being gradually rolled out and will soon be available to everyone.